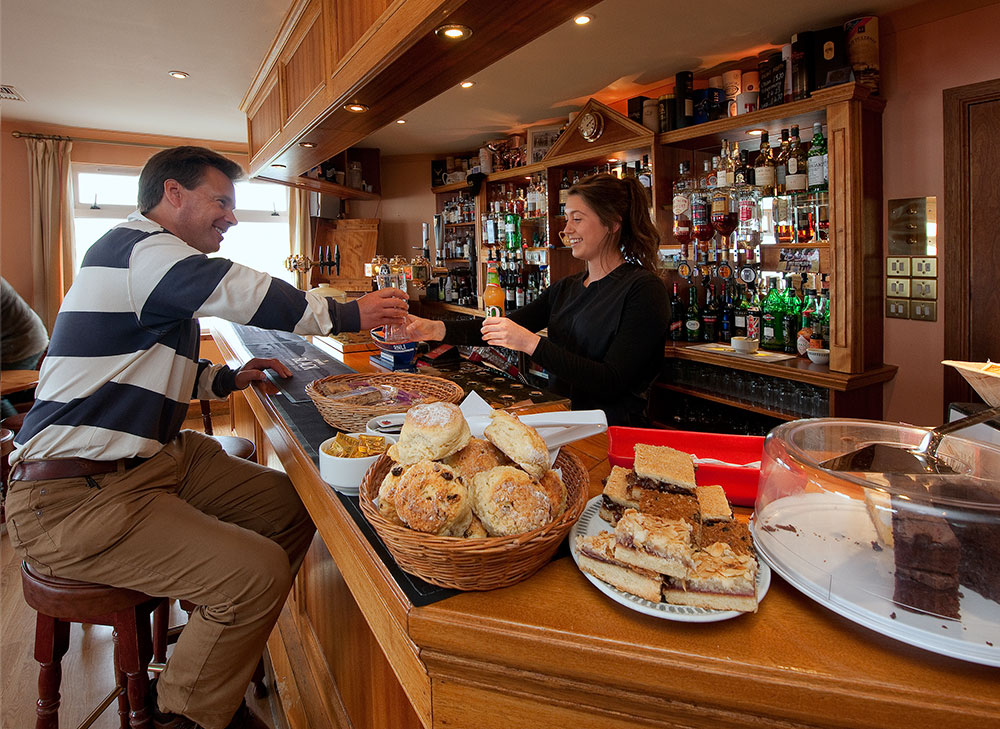 We are perfectly situated by the pier overlooking the Sound of Iona. Ideal for dolphin watching or waiting for the ferry.
Café
Our spacious self-service cafe is open from 10am, serving coffee and freshly baked scones to sit in or take away. Choose from homemade soups, hot snacks, sandwiches or healthy salads. Our Mull mussels or fish and chips are family favourites.
Bar
With panoramic views towards Mull, Erraid and the Torran rocks, this is the perfect place to sit and relax. Sample a fine single malt or enjoy a refreshing pint.

Restaurant
From 6pm we offer an evening menu, served in the relaxed and informal atmosphere of the dining room and bar. Local produce, fresh seafood and traditional favourites feature daily.
Reservations are recommended.
If you are looking for accommodation on iona, why not visit www.martyrsbayiona.co.uk?

Wine Menu
1 PINOT GRIGIO
Calusari (Romania)
A beautifully light, vibrant white with refreshing citrus characters.
2 SAUVIGNON BLANC
Los Espinos (Chile)
Bursting with vibrant zesty fruit and exotic guava. Refreshing, crisp and aromatic.
3 CHARDONNAY
The Googly (Australia)
Lovely ripe melon and apple characters mingle with touches of pear and honey. Bright, zingy and well balanced.
4 PICPOUL DE PINET
Famille Morin (France)
Bright and fresh with aromas of white flowers and delicate stone fruit flavours.
5 SAUVIGNON BLANC
Iona (South Africa)
A wonderfully aromatic wine showing fine mineral notes, kiwi, hints of herbs, leaves and a touch of gooseberry fruit.
6 CINSAULT ROSE
La Vie en Rose (France)
A delicious, pale pink rose with gentle strawberry fruit flavours.
7 SANGIOVESE
Terre Allegre (Italy)
Juicy and succulent with ripe red fruit and savoury cherry characters.
8 MERLOT
Los Espinos (Chile)
Soft, super juicy and packed with ripe, plummy fruit.
9 SHIRAZ/CABERNET
The Wrong Un (Australia)
A rich, well balanced example of the classic Aussie blend. Lush black fruits with touches of woodspice and cassis.
10 RIOJA SEMI - CRIANZA
Finca Manzanos (Spain)
Intense cherry red colour, ripe black and red fruits, spices liquorice and chocolate aromas.
11 PINOT NOIR
Mr P, Iona (South Africa)
Packed with moreish notes of sweet cherry fruit and spicy undertones.
12 PROSECCO SPUMANTE
DOC Modella (Italy)
Crisp and deliciously with ripe apple and pear flavours.
13 PROSECCO FRIZZANTE
Casa Defra (Italy) 20cl
A beautiful fruity, fun frizzante!


Contact Us
Please contact use with any questions and we will be happy to help.
Martyrs Bay Restaurant
Isle of Iona, PA76 6SJ
01681 700382